Certified Green Builder
Green, adj.: of, relating to, or advocating ecological awareness and the preservation of natural resources.
The five components of Green Building are as follows: Site Development, Sustainable Materials, Water Conservation, Health and Energy Efficiency.
As an eco friendly builder and CPS Certified Contractor, Custom Homes LTD is committed to providing quality and Green Building practices in all of the homes we build. This provides healthier and more energy efficient homes for our clients. We believe Green Building should be the standard practice for all remodels and new construction. Building Green does not necessarily mean higher cost.
Custom Homes LTD starts with OVE framing (optimum value engineered framing). We offer 3 levels of Green building to allow you to decide which option will be best suited for your individual lifestyle. Level One costs no more to incorporate in the building process. We can achieve all five categories of the Green Building in Level One. However as the level of participation increases the cost will increase. Please afford us the opportunity to discuss with you the differences in levels and how we can meet your individual needs and desires. We will be glad to work with you to any level that you desire.
GREEN Features Available:
• Solar/Solar Hot Water Heaters
• Construction Debris Recycling
• Photo Voltaic
• Higher Fly Ash Content Concrete
• Gray Water
• Dual Flush Toilets
• Geothermal
• Xeriscaping
• Water Saving Fixtures
• Wind Generation
• FSC Lumber
• Tankless/On Demand Hot Water Heaters
• Energy Savings Appliances
• Zero/Low VOC Products
• Value Engineered Framing
• Spray Foam Insulation
• Smart Irrigation Controllers
• Motion Sensing Lighting
• LED Light Fixtures
• Rainwater Collection
• Driveable Grass
• Pervious Concrete
• Rainwater Gardens
• Reclaimed/Renewable Wood Floors
• Cisterns/Water Storage
• Grey Water Systems (Drip Irrigation)
---
Details, Details, Details…
Being a true custom home builder, means that we allow you to have us design and build your home with as many custom details as you desire. Whatever you can dream of, Custom Homes LTD can bring that dream to reality. Here are a few samples of custom details that some of our clients have requested, such as: custom vanity drawers, custom window details, custom pantry drawers, and a closet with a built-in, hidden audio/video wall shelf. (Click for large detailed view.)





---
Walking the Eco-Friendly Walk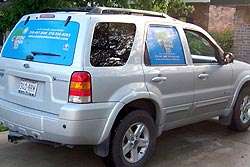 Custom Homes LTD is committed to doing its part for the environment for future generations. Our founder, Steve Sierleja believes so strongly in Green Building and it's benefits to the environment, that he also chooses to drive a Hybrid vehicle. He practices what he preaches.
Steve is a member of ICFA (Insulated Concrete Form Association) and a Master Distributor of BuildBlock Insulating Concrete Forms (ICFs), which allows all area homebuilders the opportunity to build more energy efficient homes. To find out more technical information about ICFs, visit the BuildBlock website.