Custom Homes LTD offers standard remodeling services as well as Green remodeling services. As a NARI Member (National Association of the Remodeling Industry), holding a class 1 remodeling license #IC1-131 in San Antonio, we can offer you quality options to updating your current home.

Custom Homes, LTD is pleased to announce that we are a Certified Renovator. Starting April, 22, 2010 the EPA requires any renovations that disturb more that 6 sq ft of painted area, require a Certified Renovator to perform the work. This law pertains to buildings built prior to 1978. Dust from lead paint is extremely hazardous to your health. Please see this EPA Brochure for more information. Please feel free to contact us with any questions you may have concerning this new law.

See some of our Before and After photos in the Remodeling Section of our Project Gallery.
LIKE Our Page on Facebook for the Latest News in Green Building and Eco-Friendly practices, along with company news, project updates, and project photos for both BuildBlock of South Central Texas and Custom Homes LTD.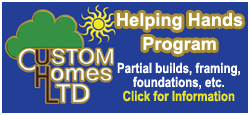 Custom Homes LTD. Certified Green Builder. Certified Renovator. San Antonio, Texas Hill Country. Custom Homes LTD is a certified green builder both eco-freindly and environmentally conscience offering custom homebuilder services in San Antonio and the surrounding Texas Hill Country. Custom Homes LTD is a green builder in San Antonio. Custom Homes LTD is a homebuilder in San Antonio Texas. green builder, green builder san antonio, custom homes San Antonio, Custom Home builder san antonio, custom home san antonio, custom builder san antonio, San Antonio custom home builder, san antonio remodeling, home renovations san antonio, San Antonio custom home, builder San Antonio, custom floor plans, available lots, custom homes for sale, new home builder san antonio, lots for sale, one story floor plans, 2 story floor plans, Kerrville Texas builder, Certified Renovator, Custom Homes, San Antonio, Texas Hill Country, certified green builder, LEED ( Leadership in Energy and Environmental Design), VA Approved, custom homebuilder Custom Homes LTD. Certified Green Builder. Certified Renovator. San Antonio, Texas Hill Country. Custom Homes LTD is a certified green builder both eco-freindly and environmentally conscience offering custom homebuilder services in San Antonio